33º 58' 00" S 18º 36' 00" E
Cape Town, South Africa
Cape Town is home to award-winning vineyards and stunning ocean vistas. It is often tipped as one of the most beautiful cities in the world.
We will host a safety briefing the day before the flight where our staff will explain all kit requirements, assist with any last minute preparations and update you on the latest weather forecasts in Antarctica.
Flight
South Africa to Antarctica
On the flight from Cape Town International, you will pass into the Antarctic Circle and 24 hours of continuous sunshine.
Co-ordinates: 71º31's 08º48'e
Elevation: 1127m amsl
Length: 3,000m
Width: 60m
Orientation: 175 true
Play Map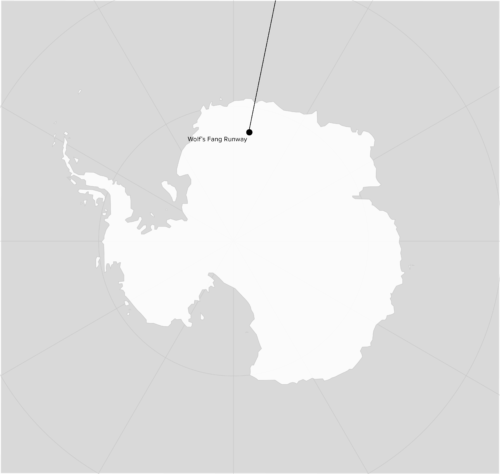 71° 31′ S, 08° 48′ E
Wolf's Fang Runway

Wolf's Fang Runway is sited on glacial blue ice which, when properly treated and groomed, is entirely suitable for business jets.
The 3,000m x 60m runway is maintained and operated by an experienced ground crew that attends to the monitoring of weather, ground-to-air communication, and runway grooming.
Weather forecasting and observation services are tailored to support planned flying operations and a daily briefing service is available for pilots departing Cape Town.
Our camps in Antarctica are perfect for exclusive buy-outs, where we can take a maximum of 12 people. We recommend Echo for private groups; consider this your home away from home. Read more about the camp below.
71º 32' 00" S 8º 50' 00" E
Echo
Echo is inspired by the seminal age of Space exploration and has been designed especially for clients who've travelled the globe in style and understand the privilege of effecting positive change through travel. Providing maximum flexibility is Echo's raison d'etre; guests staying at Echo will be required to book the camp on an exclusive-use basis catering to up to 12 guests. An experienced team of chefs, hosts and expert guides allows guests to relax or explore at their leisure.
The stylish new eco-camp will feature six heated, cutting-edge polar pods complete with expansive floor to ceiling windows commanding views of the dramatic landscape beyond. Crafted from composite fiberglass, each of the bedroom pods will be designed for two guests, with interiors featuring retro space-age detailing and luxurious furnishings.
DAILY ACTIVITIES
Ice Tunnels
A photographer's dream. Explore a maze of surreal ice tunnels that have been sculpted by seasonal melt water
Nunatak Climb
With the help of our expert guides, scale a blue-ice glacier and reach the easy summit of "Nunatak" mountain for spectacular views
Mighty Abseil
Experience an exhilarating descent from the summit of a 100m high cliff surrounded an amphitheatre of glimmering blue ice
Ice Climbing
Learn this exciting sport using crampons and ice-axes allowing you to scale seemingly impossible walls of ice
Rock Climbing
Our former world champions will teach you how to safely scale the stunning red granite walls that encircle our camp
Rope Walk
An easy traverse above a 200ft cliff with spectacular views across the ice waves below
4X4 Excursions
We do daily driving safaris to explore the wonders of the Schirmacher Oasis
Adventurers' Picnic
Snack on the top of a rugged peak with views to every horizon, the perfect opportunity to sip on a cocktail with 1000-year-old ice
Science Bases
Learn first-hand about the important scientific work that is underway at the different Antarctica research stations near to our camp
Zip Line
Sometimes the fastest way is to zip! Feel free as a snow petrel as you fly across an ice lake suspended in the air
Polar Talks
Learn the extraordinary tales of the explorers of old whilst in the same environment
OUR OTHER ADVENTURES
We offer core adventures for the pioneering traveler.
SOUTH POLE & EMPERORS

From $98,500

This luxury adventure takes you into the heart of Antarctica to see the Emperor Penguins. Then it's on to the lowest point on earth - the South Pole!

THE GREATEST DAY

$14,500

This is your chance to experience the real interior of Antarctica in a single day. On arrival you will spend 3 hours on ice, taking a gentle hike from Wolf's Fang camp to a nearby nunatak.

Early Emperors

From $62,500

A wildlife photographer's dream. This trip offers unique access to a magnificent penguin colony when the chicks are taking their first steps off their parent's feet.
Enter your email here to sign up for our newsletter
Get in touch
We understand that a journey to Antarctica prompts many questions. Please feel free to contact us here or leave your contact details and we will call you back.